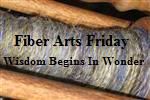 Happy Friday everyone!
I don't have a finished project this week but I thought I would link in with the Fiber Art Friday gang to show you my latest endeavour.
I belong to a "Craft Night" group that was was originally born in Melbourne, Australia. Over the last few years we have passed a few members back and forth and most of us know each other.
Last November, my group went on a yarn crawl. That day we each bought a different skein of
Madelinetosh Sock
and thought we would do a Knit-Along. The aussie girls caught wind about it and thought they would join in too.
Thus the Can-Oz KAL was born.
Our launch night was Wednesday. Both our groups meet on Wednesdays. We all brought our yarn and wound it at craft night and got ready to start. Of course, we all have lots of other projects on the go as well. It's not really a race. Although, the aussies did get a about a 15 hour head start. Darn time change.
My colourway is Earl Grey
We have gone all out. We are all using the same yarn but in all different colours. We are all knitting the same
pattern
. We have made a group on Ravelry so we can chat (and likely lament our poor chart reading skills... or maybe that's just me).
here are 3 of the 8 yarns being used
It's already a lot of fun.
Let the
race
friendly knit-along begin!
Happy
Fiber Arts Friday
!
Cheers, Nikki